Latest Developments:
Israel gives Shifa Hospital one hour to evacuate 'patients, wounded, the displaced and medical staff,' according to an AFP reporter on the scene.
Palestinian telecommunications company partially restores phone and internet services in Gaza after fuel shipments arrive
Under U.S. pressure, Israel says it will allow a limited amount of fuel into Gaza for humanitarian purposes.
Gaza is facing the 'immediate possibility of starvation,' according to the World Food Program's executive director.
Israeli Prime Minister Benjamin Netanyahu says Israel has not been successful in minimizing civilian casualties.
Israel warns Palestinians to leave four towns in southern Gaza, possibly presaging new attacks in the area.
Israeli forces continue operations around Shifa Hospital.
Israel has given Shifa Hospital one hour to evacuate, according to an Agence France-Presse reporter on the scene Saturday.
AFP reports that Israeli troops told Mohammed Abu Salmiya, the hospital's director, to ensure 'the evacuation of patients, wounded, the displaced and medical staff, and that they should move on foot towards the seafront.'
Israel believes that Gaza's largest medical facility houses Hamas militants in chambers underneath the hospital.
Israel has called for the evacuation of the hospital before, but medical staff say they have patients who cannot be moved.
Power shortages at Shifa have resulted in patient deaths, including the deaths of infants.
Over 2,000 patients, staff and displaced Palestinians were sheltering at the hospital when the Israel troops moved in Wednesday, according to the United Nations.
The Palestinian telecommunications company Paltel said it has partially restored phone and internet services in Gaza after fuel shipments were delivered to the region.
A first shipment of around 17,000 liters of fuel passed through the Rafah crossing from Egypt late Friday, a Palestinian border official told Agence-France Press.
Paltel said it had begun restoring its network after receiving fuel to restart the generators that power its equipment.
Under growing pressure from the United States, Israel said Friday that it would allow small shipments of fuel into the Gaza Strip for humanitarian purposes, as United Nations aid convoys remained suspended for a third consecutive day.
'Yesterday evening, the War Cabinet responded to a special request by the United States to provide two fuel tankers per day for the sewage purifying facilities in the Gaza Strip that are facing collapse without electricity and the ability to manage the water and sewage systems that UNRWA manages,' Israeli National Security Council Director Tzachi Hanegbi told reporters Friday in Tel Aviv. The UNRWA is the United Nations agency that assists Palestinians.
In Washington, a U.S. State Department official confirmed that Israel has agreed to allow in 140,000 liters (36,984 gallons) of fuel every 48 hours for southern Gaza through the Rafah border crossing with Egypt - 120,000 liters (31,700 gallons) for UNRWA aid trucks, desalination plants, sewage facilities and hospitals, and 20,000 liters (5,283 gallons) for telecommunications generators. The first delivery is expected Saturday.
U.N. humanitarian chief Martin Griffiths said Friday that around 200,000 liters (52,834 gallons) per day is needed 'to meet the minimum of our humanitarian responsibilities across Gaza - north and south.'
The lack of fuel brought aid efforts to a halt this week, caused a telecommunications blackout, and crippled hospitals, water desalination and sewage facilities, and bakeries.
Nearly 2.2 million need aid
Israel imposed a blockade on the Hamas-controlled Gaza Strip following the group's October 7 terror attack that killed more than 1,200 people in southern Israel. Hamas has been designated a terrorist organization by the U.S., U.K, EU and others.
Because of the fuel situation and communications blackout, the UNRWA was unable for a third consecutive day to run aid convoys into Gaza, where 2.2 million people - virtually the entire population - need humanitarian assistance.
'Our work has become mission impossible,' UNRWA Acting Deputy Commissioner-General Natalie Boucly told a meeting at U.N. headquarters about Gaza's humanitarian situation.
World Food Program Executive Director Cindy McCain warned Thursday that civilians in Gaza face 'the immediate possibility of starvation' because of the collapse in the food supply chain and fuel shortages. She urged Israel to open additional border crossings for humanitarian deliveries into Gaza.
Evacuation orders
Israel issued new warnings on Friday for Palestinians in the southern city of Khan Younis to relocate, indicating a possible expansion of its war against Hamas into areas where Israeli officials had told people earlier that it was safe to stay.
'We're asking people to relocate,' Mark Regev, an aide to Netanyahu, told MSNBC. 'I know it's not easy for many of them, but we don't want to see civilians caught up in the crossfire.'
Israel dropped leaflets from aircraft Thursday telling Palestinian civilians to leave four towns in southern Gaza, signaling a possible expansion of its war against Hamas into areas where Israeli officials had told people earlier that it was safe to stay.
The U.N. said its monitors estimate about 10,000 people moved from those towns Thursday.
Overnight, airstrikes were reported in Khan Younis and the nearby town of Rafah; casualties were reported.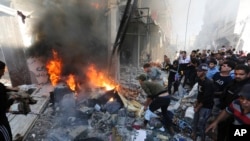 Palestinians search for survivors after an Israeli strike on Rafah, Gaza Strip, Nov. 17, 2023.
Humanitarians have criticized Israel's proposal for a 'safe zone,' saying it was neither safe nor feasible and they will not assist in moving civilians toward one.
'The proposal for a so-called 'safe zone' at Al-Mawasi is a recipe for disaster,' World Health Organization chief Dr. Tedros Adhanom Ghebreyesus told the U.N. meeting.
He also said Gaza's health care system is on the brink of collapse. Only 10 of Gaza's 36 hospitals are still functioning, with just 1,400 hospital beds in total. According to the Hamas-run Ministry of Health, more than 27,000 Gazans have been injured in the war.
Raid on Shifa Hospital
The Israel Defense Forces raided Gaza City's largest hospital this week. It said Hamas has tunnels and its command-and-control center under the Shifa Hospital compound.
It released a video Thursday of what it said showed a tunnel entrance that Hamas militants used in an outdoor area of the hospital. The video, which could not be immediately verified, showed a deep hole in the ground surrounded by concrete and sand.
In a statement late Thursday, Hamas again denied it was using the hospital for military purposes, calling such claims 'a repetition of a blatantly false narrative, demonstrated by the weak and ridiculous performances of the occupation army spokesman.'
Netanyahu, the Israeli prime minister, told CBS News Thursday that his government had 'strong indications' that some of the roughly 240 hostages Hamas abducted from Israel were being held at the hospital and that was one of the reasons troops entered it.
No hostages were found, but the Israeli Defense Forces said it recovered the bodies of a female Israeli soldier and a 65-year-old female hostage near Shifa Hospital after the raid.
Hamas says about 650 patients and 5,000 to 7,000 civilians have taken shelter on the Shifa Hospital grounds. Humanitarians have voiced concerns that such raids could breach international law.
Netanyahu acknowledged in the interview with CBS News that Israel has not been successful in minimizing civilian casualties. He said Israel is doing 'everything we can to get civilians out of harm's way,' but Hamas is doing 'everything to keep them in harm's way.'
A member of Israeli forces stands next to a security wall with Hebrew writing reading 'Path to Peace' at the Kibbutz Netiv Haasara near the border with Gaza Strip, Israel, Nov. 17, 2023.
Palestinian authorities in Gaza now say more than 12,000 people - about 5,000 of them children - have been killed since Israel launched a major air and ground offensive in response to the October 7 Hamas attack. The U.N. deems those figures credible, though they have not been updated since November 10 because of the collapse of services and communications at hospitals in northern Gaza.
Appeal for hostages' release
Meanwhile, negotiations are reportedly ongoing to win the release of some of the 240 hostages Hamas holds.
'We are closer than we were before we began the ground action, because the ground action has put pressure on Hamas to achieve a cease-fire,' Netanyahu said of efforts to free the hostages in the CBS interview.
Relatives, friends and supporters of Israelis held in Gaza since the October 7 Hamas attack march through the city of Modiin toward Jerusalem, demanding that the hostages' be released, Nov. 16 2023.
Families of the hostages and thousands of their supporters have been marching from Tel Aviv to Jerusalem for three days carrying signs and photographs of their loved ones in a bid to secure their release. They expect to end their 70-kilometer (43-mile) march Saturday in front of Netanyahu's home in Jerusalem.
Hamas has offered to release all the hostages in exchange for some 6,000 Palestinian prisoners detained in Israeli jails, but Israel's War Cabinet has rejected the proposal.
VOA Correspondent Natasha Mozgovaya, Senior Diplomatic Correspondent Cindy Saine at the U.S. State Department, and United Nations correspondent Margaret Besheer contributed to this report. Some information for this article came from The Associated Press, Reuters and Agence France-Presse.